Santa Maria Community Services: Literacy Center West
NLD ID #61457
Contact Information
3208 Warsaw Avenue
Cincinnati, OH 45204
Primary Contact
Lyndsi Fitzsimmons
Hours of Operation
M-W 9 am - 7:30 pm; TH 9am - 1 pm
Program Overview
Santa Maria Community Services offers free High School Equivalency preparation and test registration services to individuals age 16+ in an effort to develop a community which empowers individuals to improve their lives and neighborhoods through education, while inspiring them to work, learn, and grow.
The services combine classroom, small group, and one-on-one instruction to prepare students to take the Ohio HSE tests.

The fundamental premise behind these free services are to use education to break generational cycles of poverty. High School Equivalency preparation classes prepare students to take the Ohio HSE examinations and/or increase their basic skills to a functioning level. We believe that education is the most important vehicle to better employment and self-sufficiency, and we seek to develop character and civic responsibility within those who participate in our programs through positive interactions and relationship building with staff and volunteers.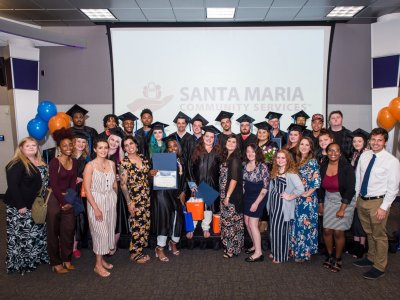 Cost Info
Santa Maria covers all GED testing fees as well as practice test fees. We also provide transportation in the form of bus tickets to assist in getting to and from class.
Student and Volunteer Success Stories
"I've never met a group of people more genuine than my Santa Maria team. They NEVER gave up on me and NEVER
allowed me to give up on myself. I got knocked down but they helped me get right back up. I had days where I didn't even wanna get out of bed and go to school and they still never doubted me. I AM forever grateful for my teachers and the staff at Santa Maria, I truly cannot express how good of people they really are." - recent graduate
Education services
Read and write better
Study for my high school equivalency exam
Improve my math skills
Improve my workforce skills