Lee County Literacy Coalition
NLD ID #11808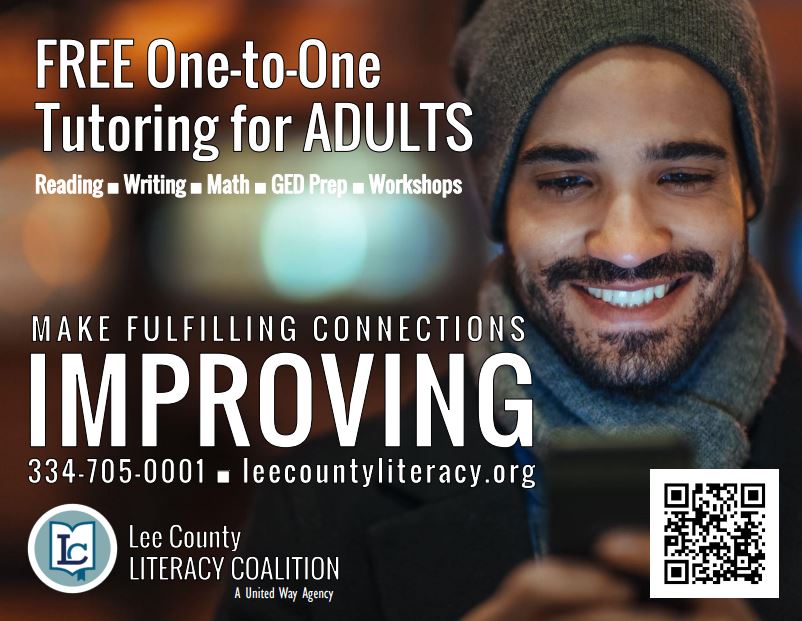 Contact Information
505 W. Thomason Circle
Opelika, AL 36801
Primary Contact
Patricia Butts
Hours of Operation
9 a.m. - 6 p.m. Monday - Thursday; Friday & Saturday by appointment.

Program Overview
Adult One-to-One Tutoring

The Lee County Literacy Coalition (LCLC) offers one-to-one tutoring for reading, writing, math, computer. Once a learner and tutor are paired, an introduction is scheduled. Learners and tutors then agree on weekly session times and location. Sessions are generally one hour and are hosted at a public library, the LCLC office, or virtually. The learner determines the goals and objectives of the learning experience, whether it's improving vocabulary to read to grandchildren, obtaining a driver's license, passing a test to get a promotion or to obtain the GED. Volunteers receive a Basic Tutor Training to gain the needed fundamentals to assist adult learners that emphasize respect and confidentiality. Continued education opportunities are provided via webinar, meetings, and online resources.
GED Preparation
One-to-One GED prep is available for Language Arts Reading & Writing, Math, Science, and Social Studies. The Math portion involves understanding fractions, multiplication/division, word problems, basic geometry, and algebra. The Science and Social Studies portions primarily involve reading comprehension where the information is provided and the answer must be determined.
Financial Literacy Workshop - Control Your Money
This workshop covers basic financial information such as how to track spending, how to budget, managing a checking account, and using credit. Services and workshops are available at no-cost and open to the public. For more information, visit leecountyliteracy.org.
Digital & Workplace Literacy
Understanding technology and how to utilize it is a necessity in today's world. Desktop and laptop computers and other smart devices are in 80% of households. Many jobs require the use of technology in some form with more information offered in electronic rather than printed format. Workshops will help adults increase their ability to communicate online. Topics include the basics of software applications, internet safety, navigating online job applications, and more.
Health Literacy
Participants gain information to better advocate for themselves, understand food labels to make informed choices, and prepare and ask questions of health care providers for a better understanding of medical advice and instructions. These 90-minute workshop topics include heart health, plant-based diet alternatives, stress management and more.
Legacy Learning Project - Family Literacy
Legacy Learning Project engages learners with activities and instruction to improve overall family literacy and promote a culture of learning in families. This program empowers parents with tools to improve their literacy; share activities to be incorporated in daily practices in the home, and engage and bond with their child with reading activities. This is done through monthly assessments of a family's needs and wants coupled with constant support of and engagement with the parents.
Cost Info
All services and programs are FREE.
Education services
Read and write better
Find a family literacy program
Study for my high school equivalency exam
Learn English
Improve my math skills
Improve my technology skills
Improve my workforce skills