Literacy Pittsburgh (formerly Greater Pittsburgh Literacy Council)
NLD ID #74998
Contact Information
411 Seventh Ave, Ste 550
Pittsburgh, PA 15219
Primary Contact
Erica Hom
Hours of Operation
9:00 AM - 5:00 PM Business hours; Classes and tutoring are offered in evenings as well.

Program Overview
Literacy Pittsburgh (formerly Greater Pittsburgh Literacy Council) helps create better lives through learning. Recognized as a national leader in adult and family literacy, Literacy Pittsburgh is the largest provider of adult basic education in Allegheny and Beaver Counties. Last year, Literacy Pittsburgh helped more than 4,500 individuals acquire reading, writing, math, English language, computer and workforce skills so they may reach their fullest potential in life and participate productively in their communities.
Classroom, small group and one-to-one instruction is offered free of charge. To enroll as a student, please call 412-393-7600.
Volunteers are needed to work one-to-one with students, help in the classroom and assist with fundraising programs. For more information on volunteer opportunities, please call 412-393-7645.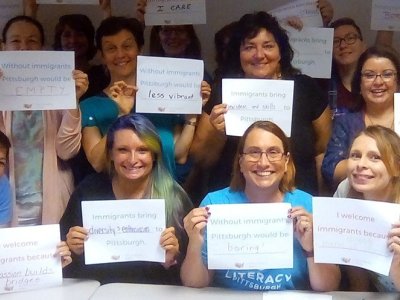 Student and Volunteer Success Stories
A new job in management prompted Shawnice to brush up on her skills. Her annual review was approaching and she worried about writing the three required essays. Shawnice turned to Literacy Pittsburgh for help. She chose to work with a volunteer tutor in her neighborhood. Together, they worked on spelling and presenting her ideas effectively. At Literacy Pittsburgh, Shawnice gained valuable communication skills and confidence. Her successful performance evaluation led to a promotion and a raise that will help her to support her two children. Her next step is to go back to school for computer technology. Shawnice knows that her success will influence her children. "They see that I did homework, so they can do it, too," she explains. "It will inspire them to stay in school and further their own education."

Education services
Read and write better
Find a family literacy program
Help my child learn
Study for my high school equivalency exam
Learn English
Improve my math skills
Improve my technology skills
Volunteer at a program
Become a U.S. citizen