Chickasha Adult Learning Center
NLD ID #14050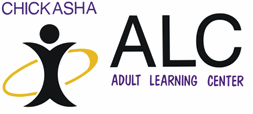 Contact Information
1208 S. 17th St.
Chickasha, OK 73018-2213
Primary Contact
Lisa Johnson
Hours of Operation
ABE Classes M-Th 8:00- 3:00 pm; Tu/Th 5:30-8:00 pm; ESL Tu/Th 5:30-8:00 pm
Program Overview
The Chickasha Adult Learning Center oversees Adult Basic Education Classes, English as a Second Language Classes, TANF Classes and provides testing for Pearson VUE, HISET, GED, WorkKeys and ParaPro in three counties (Grady, Garvin & McClain) in Oklahoma. We work diligently with our High School Equivalency students in preparation for taking one of two HSE exams (GED & HiSET). We offer Distance Learning for students who need or prefer to receive their educational instruction and practice online. We also provide an annual commencement ceremony, complete with caps & gowns, photographer, commencement speaker, awards and reception, for students who complete their HSE by June of each year.
Cost Info
We have a $20 materials / pre-test fee. Classes are free.
Student and Volunteer Success Stories
Starlina:

Starlina noted, "I am very thankful that this staff was put into my life, to help me improve in math and obtain my GED credential. It took me a while to obtain it, but with time and persistence, it was completed. I would encourage anyone who is in need of their GED to pursue it at the Chickasha Adult Learning Center. These ladies are wonderful and have meant so much to me and my family."

Student "Tiffany":

She has been one of the most positive influences in my life," states one Adult Learning Center student. Tiffany is referring to one of her instructors, Elaine Fremin, who assists adults with their educational endeavors. "I've never known anyone who cared about my success as much as she has. She's helped me to believe that I have the ability to complete the goal of obtaining my GED credential. My daughter was born two months ago and she showed up at the hospital to support and encourage me. Who does that?"
Education services
Read and write better
Study for my high school equivalency exam
Learn English
Improve my math skills
Become a U.S. citizen