Techno-Women
NLD ID #25838

Contact Information
2209 Rosewood Ave.
Austin, TX 78702
Hours of Operation
M-F 9-4pm
Program Overview
The Techno-Women Program objective is to educate and certify twenty single mothers, who earn below a living wage, in a 4-Tier, 7-month course that certifies students in CompTIA A+ and COMPTIA Network+ Certifications. The course begins with entry level instruction, and ends empowering students to build (and keep) their own computers. Graduation will be contingent on completing an internal internship (provided to the Students by AFN). AFN will then host a 2-week long career fair for the students. The Certifications gained in the program are a segue for graduates to get an entry level job in the IT sector (a job sector typically denied to single mothers who earn below livable wages).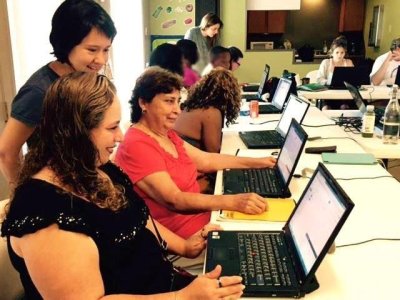 Student and Volunteer Success Stories
Jan Morgan is a single parent who lives in the Lakeside apartments: a living quarters subsidized by the housing authority of the city of Austin. Jan attendant both the Tech-Starters I and Tech-Starters II classes at Austin Free-Net. Both programs provide computer training in English and Spanish; targeting populations struggling towards employment. Jan attended 36 different training sessions, and gained 280 new skills (recorded in our tracking system) throughout her attendance in the Tech-Starter programs. Jan was the Vice President of the Lakeside Resident Council at the Lakeside apartments, and used her training to create a power point presentation for a council meeting. Jan was also able to create her own website after attending both programs. Jan told an AFN trainer how excited she was to both know and share the material that she learned, with her kids when she got home. Jan has always helped with AFN outreach efforts; she promotes the Tech Starter II program to other residents from different Housing Authorities.
Education services
Read and write better
Improve my technology skills
Volunteer at a program
Instruction Type
In-person
Online
Instruction in multiple languages