Arlington Public Library
NLD ID #22229

Contact Information
100 S. Center St.
Arlington, TX 76010
Primary Contact
Cristen Williams
Hours of Operation
Monday - Thursday 9 a.m. - 9 p.m.; Friday 9 a.m.-5 p.m.; Saturday closed; Sunday closed

Program Overview
How Can You Move Ahead with Adult Ed? Adult education programs offer you an on ramp to a better job and further education. We currently are providing instruction online and in person. CDC guidelines and sanitation protocols are in place for in-person instruction to ensure a safe learning environment.
For our English language learners, we offer levelled classes to learn English as well as English for Professionals where we help certify overseas credentials for our internationally trained professionals.
You can also start with basic classes in reading and move on to a class that prepares you to earn your high school equivalency and then into a career training program. If you already have your high school diploma or equivalency, you can go right into one of our career training programs. #moveaheadwithadulted
Career training programs currently include healthcare (CNA, phlebotomy, and EKG), office/IT skills (Excel MOS and CompTIA A+ certifications), and truck driving (CDL). These are free to qualifying students.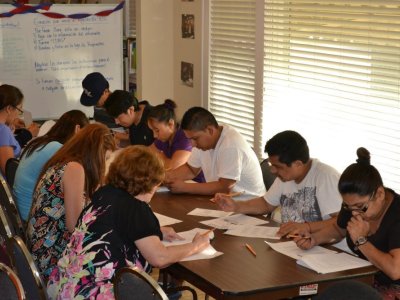 Cost Info
This program is free to Tarrant County residents.
Student and Volunteer Success Stories
Jimmy has been an off and on student with the Arlington Reads high school equivalency (formerly GED) program since 2014. By his own admission, he had many difficulties growing up and getting his diploma was always a goal of his though it was a circuitous path which eventually brought him to Arlington Reads. Despite past and present difficulties, Jimmy stuck with it, never giving up!

He passed the language arts, science and social studies tests fairly quickly but math proved to be more difficult. It was almost a year and a half later, after passing his first three tests, that Jimmy passed math and earned his diploma. "It was such a happy moment," Wilson said.

He hand-wrote thank you cards to all of the different volunteer teachers and staff that helped him along the way, and delivered them when he picked up his printed certificate. "I'm so thankful for everyone's help, I couldn't have done it without you guys." What's next for Jimmy? Well, he plans on attending dental hygienist school through TCC. "I also considered getting my real estate license, but becoming a dental hygienist seems like a more sure bet. I'm 45 and I'm starting a whole new life now."

Jimmy hopes that his difficulties and his positive personal growth will be inspirational to others. He's writing a memoir about his life, and is already over 10,000 words in. "Life always has a way of getting in the way, but I hope that I can inspire others with my story." Jimmy wants others to know that hope is alive and well, through Arlington Reads.
Education services
Read and write better
Study for my high school equivalency exam
Learn English
Improve my math skills
Improve my technology skills
Volunteer at a program
Become a U.S. citizen
Improve my workforce skills