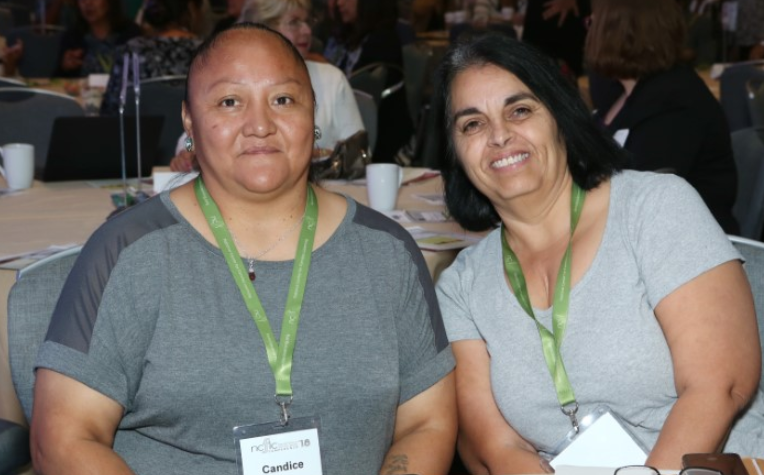 Setting an example of persistence and volunteerism
30th November, 2018
Candice is a member of the Hopi tribe of the Tobacco clan in Arizona and is a mother of four. She and her son Cameron are participants in the Family and Child Education (FACE) family literacy program for American Indian families. FACE is funded by the Bureau of Indian Education and the National Center for Families Learning (NCFL) is contracted to provide training and technical assistance to FACE program staff. Candice was recently invited to share her family literacy story at the 2018 Families Learning Conference.
Candice was a stay-at-home mom for many years before she came to the FACE program. Although she hadn't graduated high school, she knew the importance of learning and education, and stressed this to her children. While being a stay-at-home mom, she volunteered at her children's school regularly. There Candice met an adult education instructor, Dolores, who invited Candice to join the FACE program. Candice didn't join right away, but Dolores was persistent, reminding her about the program often, saying, "We've got a place for you."
One day Candice and her family attended an open house at her children's elementary school and she was once again greeted by Dolores. The two discussed ways that Candice could work towards her goals, like education, things to do at home with her children, Parent Time, and how to work on her wellness. Though Candice was a little embarrassed, she confided to Dolores that she wanted to work toward earning her GED®. Dolores gave her two thumbs up, said, "Yay, we can do that," and gave her the registration packet for the FACE program.
This time, Candice was ready to join. Two days later she turned in her packet and she got to work right away, practicing—and passing—her exams for the GED. During her first year in the FACE program, she passed civics, social studies, reading, English Language Arts, and science. Passing didn't exactly come easy, though. Her science exam took many attempts. She missed it by one point, then by two points.
"I prayed and I cried, and I was at the point where I wanted to give up," Candice recounted. But she remembered what she told her kids about the importance of education and knew she had to try again.
When she got ready to take the test a third time, she had a new tactic, suggested by Dolores: answer the questions she knew first and then come back to the ones she flagged. That's what she did—and she passed!
Now the math test is all that Candice has left. She is excited, because all the tools and practice she received through the FACE program have helped her find ways to understand and work toward her goals. "The M&Ms Dolores gives us before a test don't hurt either—it's the power of the peanuts," Candice joked.
On days when she is not studying for a test or attending Parent Time with the other parents, she enjoys Parent and Child Together (PACT) Time® with Cameron in his classroom and at home. Cameron has an Individualized Education Program (IEP) for speech, and PACT Time helps her understand how he learns and ways to help him. She also has individualized Parent Time to help her understand how to support his IEP goals.
Candice enjoys being involved in her community and often presents to different classes about family resources, sharing how she works with her children. She enjoys using family time and play as opportunities for learning, such as using bubbles and slime to learn about science and going on scavenger hunts to explore nature.
Standing in front of hundreds at the 2018 Families Learning Conference, Candice said, "I would love to thank my family for supporting my dreams and standing by my side and never giving up on me. Thank you also to Sharon Darling, the National Center for Families Learning, Sue Bement, the Bureau of Indian Education, and the Salt River FACE team for your time and support. Asquali."