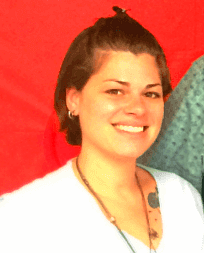 Overcoming obstacles and achieving success with Anne Arundel County Literacy Council: Jessica's Story
23rd May, 2018
From being a child in foster care, leaving school at a young age, and struggling to earn an accredited diploma, Jessica never gave up.
Since April, Jessica has been training twice a week with Anne Arundel County Literacy Council tutor John for the math section of the GED® test. Despite juggling three jobs, Jess is committed to finding time for her academic studies. Although she has faced many difficulties while working toward her high school diploma, Jess stresses "as long as you're committed, it is possible."
Jess's childhood was difficult. "I grew up in foster care, in group homes, and was passed around for most of my school years. My stability ended when I was 13, so school ended for me when I was around 11 or 12 years old." As an adult, "school was not a priority," she said. "When I was 17 years old, I had my own apartment and I had to pay for it. Work was my priority."
In the years that followed, Jess moved several times. She eventually made the decision to get a high school diploma and signed up for a virtual classroom. She passed all her classes, received her diploma, and was told by the online school that she was a high school graduate.
When Jess moved to Maryland, she enrolled in classes at a local college. However, she realized that the school was not giving her all of the financial aid she expected. When she discussed the problem with college administrators, she received an unexpected shock. "They said the diploma I brought to them was not accredited. I had to go get my GED® in order to receive financial aid."
Undiscouraged, Jess passed all her classes that semester and then set about studying for the GED® test. She began attending group classes but the teaching style and group environment did not work well for her. It was at this point that Jess reached out to the Anne Arundel Literacy Council.
Jess has made significant progress since she and tutor John started working together. "She's moved very quickly." John admires Jess's mental flexibility and her openness to receiving help. "She is never defensive when she gets something wrong. She is quick to see another way of thinking about it."
Jess has enjoyed having John as a tutor. He has helped her get over her "huge phobia of fractions." She also appreciates the individual attention she gets during one-on-one tutoring. "I can say specifically 'I'm not understanding this.'" she said. "Then he can break it down for me in a different way so I'm able to understand."