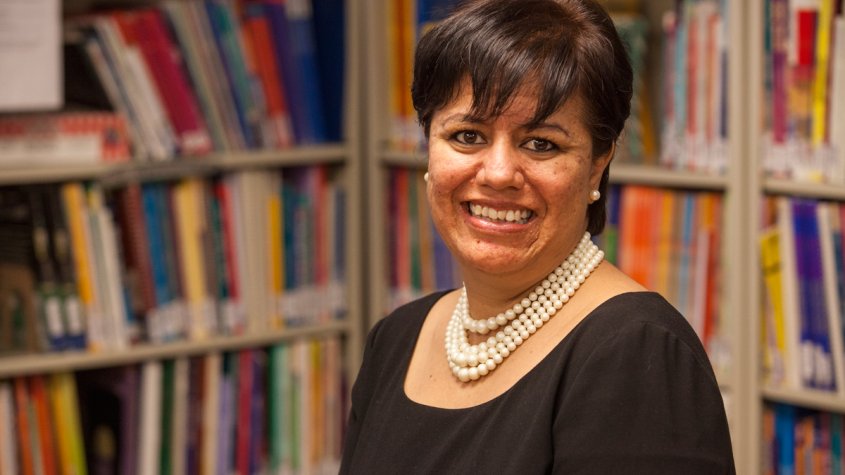 One woman's journey from learning English to teaching others
16th January, 2018
Norma came to the U.S. in 1993. She had fallen in love and married the man of her dreams, who was already living and working in the States—and she decided to follow him. Norma left Mexico as a young, independent, and hard-working woman with an associate's degree in computer programming.
She soon realized that no matter how educated she was, not being able to understand and speak English would be an enormous barrier to her success and well-being.
"I felt useless and like a 'nobody,' especially after I became pregnant with our first child," she said. "I wondered, 'How in the world am I going to communicate with the doctor and survive in a town where translators are difficult to find?'"
She was embarrassed to ask strangers for help and felt like she was trapped in the apartment, waiting for her husband to come home so the two could go grocery shopping and run errands together. Her husband would also have to leave work early to take her to her doctor appointments, which meant a smaller paycheck for their family.
For a very long time, she navigated her community and conversations using an English/Spanish dictionary that her husband had bought for her.
"Speaking English was the hardest part for me," she said. "I remember trying to tell my landlord that we had a clogged sink in our kitchen, but I think he translated what I said as I had a 'clucking chicken' in my sink. I will never forget the look on his face until I was finally able to clarify that the sink in my kitchen was 'clogged' and there was no 'clucking chicken.'"
More seriously, Norma also remembers the day her next-door neighbor was having a medical emergency and asked her to call 911. Norma was unable to communicate the emergency with the operator, but luckily the paramedics came in time to help her neighbor. That scary feeling of helplessness stayed with Norma for a very long time.
One day, Norma came across a flyer for the Family Tree Program, NCFL's family literacy program in Arizona, inviting parents with preschool children to join their class. She could learn English while her daughter was attending preschool and would have childcare for her one-year-old son.
Norma enrolled immediately. It didn't matter that she would have to walk, pushing a stroller, for two miles under the hot Arizona sun to get to school. She was determined to learn English.
Only, in her classes, she was not only learning basic English skills—she was also given the tools to develop her leadership skills and parental strategies to help her children succeed academically. Norma learned to be a volunteer in the school's front office, the cafeteria, and for other teachers on her school's campus. During their own classes, her children developed early-learning skills, and, together, they spent one hour of the day learning together.
After two years in the program, her teacher asked Norma if she could be her aide. This meant she could financially contribute to her family.
"I quickly went from sitting with my classmates learning new vocabulary words to standing in front of the group giving a spelling test," she said. "I was extremely nervous, but thanks to the support from the teachers and my classmates who eventually became my students, I was able to do it."
That job snowballed into another opportunity. Norma was asked to take an instructional assistant position at a nearby school.
On the first day as a teacher's aide in that third grade classroom, a little boy who had just arrived from Mexico showed up in class. He was scared and felt alone. He wanted to feel like he belonged in the class but not speaking and understanding a word in English made it difficult.
"I saw myself in that little boy," she said, and she summoned the family literacy teachers of her past who opened their hearts to her and her family and showed them the way to success. She shared that passion for helping others with that young child.
It's been 19 years since Norma first participated in an NCFL family literacy program.
"Throughout the years, I have had many opportunities to not only better myself, but also to help my own family reach their goals by being a role model for my children and husband."
She still has that Spanish/English dictionary her husband gave her when she first moved to the U.S. She doesn't need it anymore, but she keeps it to remind herself of the importance of using whatever resources she has in order to accomplish her goals.
Currently, Norma is the Family Literacy Liaison for Mesa Public Schools. She provides support and parenting classes to nine sites around the district. She is also a part of the district's Community Education Department with the Adult Education Program.