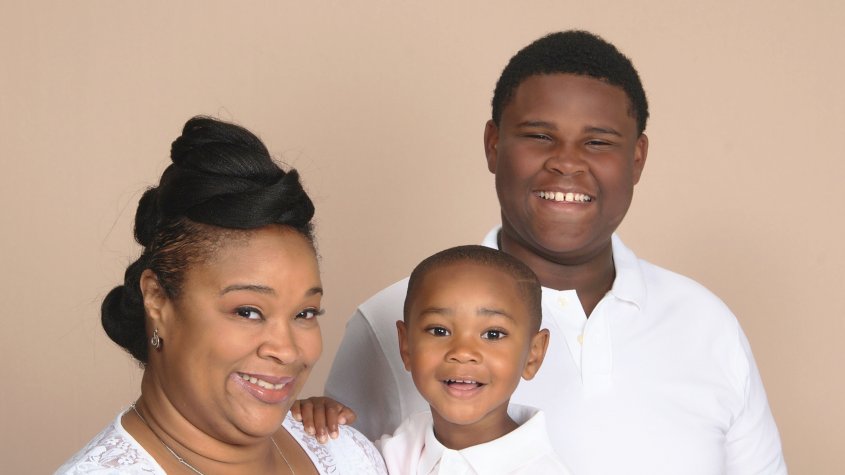 Finding purpose through family learning
30th November, 2018
LaDelvin is a mother of two and an alumna of the Flint Family Literacy Program at the Christ Enrichment Center (CEC) in Michigan. CEC is a local partner of the National Center for Families Learning (NCFL), and has provided programming to promote learning opportunities for local citizens of all ages for the past 30 years. LaDelvin was recently invited to share her family literacy story at the 2018 Families Learning Conference.
When LaDelvin was growing up, her parents emphasized the importance of school. She was raised in a two-parent household and was the youngest of five children, plus one adopted brother. Her father started working on the production line at the local General Motors plant, eventually making it to management. In 1963, her parents were the first black couple to purchase a home in their neighborhood—they were a model of upward mobility within the local black community.
All of LaDelvin's older siblings graduated from high school, and they all either enrolled in a college or pursued a trade degree. Her family's relative prosperity and educational attainment, however, would not be a harbinger of the path LaDelvin would take. When she was a teenager, family tragedy struck not once, but twice.
When LaDelvin was 13 years old, her father suffered a fatal heart attack. Then, seven months later, her brother Ewell Jr. was brutally murdered—he was just 25 years old.

LaDelvin's world was turned upside down. "I felt like my life was over before it began," she recalled.

LaDelvin found a positive outlet in music, learning to play clarinet in middle school and eventually joining the high school marching band. Academically, however, she never obtained the credits she needed to graduate on time. By 18, she had dropped out of high school twice largely due to persistent struggles in math class.
Despite not having her GED®, LaDelvin was determined to provide for herself, and her longtime passion for nails and salon work was a way to do so. She enrolled at a cosmetology school in Flint and worked in various salons, building up a reputation as a skilled nail artist.

In the fall of 2004, her son Deaven was born. Years passed, work was steady, but when it came time to supporting Deaven's reading and school work, the experience was painful for both mother and son. "Deaven had issues with reading...It was traumatic for both of us to get him to sit down and read, and I might have went about it in the wrong way," LaDelvin admitted.
Then in 2007, LaDelvin's mother passed away, leading to another difficult stretch. She suddenly became the guardian of her adopted brother. In and out of jail since he was 14, he was saddled with anger and mental health struggles. During this period, LaDelvin made a reluctant decision to apply for state assistance. "For me, I felt as if I had hit rock bottom," she said.

But needing assistance indirectly provided LaDelvin a spark.

"I knew that I needed to do something, so I attended night school to obtain my GED®," she said. She passed all of the sections except for math. LaDelvin was exasperated, but she didn't give up, finally giving the nearby family literacy center, Christ Enrichment Center (CEC), a chance.

She had never told most of her family that she didn't graduate from high school. It was a secret she'd kept for over 20 years. But after years of harboring this burden and what she calls a personal shame, LaDelvin finally had enough. In the fall of 2016, at age 42, she enrolled in the CEC Flint Family Literacy Program.

During her enrollment session at CEC, LaDelvin initially balked at the idea of a lengthy commitment. After all, she says, her plate was full. She now had two sons, and she was still taking care of her adopted brother. Finances were tight.

At the time, LaDelvin was unaware of the value in committing to family learning and literacy programs long-term. Soon, though, she was participating in a wide range of the onsite programming for up to 20 hours a week. This included GED®courses, and NCFL's Parent Time and Parent and Child Together (PACT) Time® classes—both multigenerational approaches to encourage families to learn together.
During PACT Time, LaDelvin learned to improve as the first teacher of her children while practicing interacting with her younger son, Desmond, in a supportive environment. With Parent Time, she met other young mothers and formed a tight-knit cohort. By increasing her network, LaDelvin was able to work with CEC staff members on setting high expectations for her kids, focus on her children's progress, and extend learning opportunities at home and in the community.

The family literacy program at CEC not only helped LaDelvin study for the GED® and become a better parent for her children, it sparked within her a lifelong commitment to help others who are struggling with the same issues she experienced throughout her life. After a year in the program, LaDelvin was asked by the Flint & Genesee Literacy Network to join their team as a Flint Recovery Corps Member, serving as the family literacy system navigator.

In addition to working at her home salon, LaDelvin now carves out time to embrace work as a family literacy system navigator. She provides local families resource packets about ongoing issues in their community, such as Flint's water quality issues. She also provides ideas and suggestions for others to implement PACT Time.

At the 2018 Families Learning Conference, LaDelvin took the ballroom stage in front of over 700 people. She received a standing ovation. "It was an honor to not only speak my truth, but to be an inspiration," she said. Grateful for her opportunities, she is determined to keep paying it forward. She said, "I just want to be able to impact my community in a way that the next generation can say 'I want to impact my community as well.'"